About Extension Springs
Garage door extension springs counterbalance the weight of garage doors to make them easy to open and close. One end is secured to a stationary angle or bracket, and the weight of the door pulls the other end.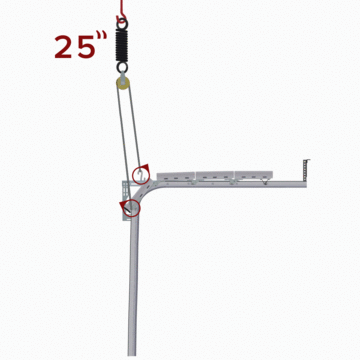 When a garage door is open most of the door weight is stored in the horizontal tracks. The door will stay open without extra support because the initial tension of the springs counterbalances the weight of the door. Extension springs are stretched with cables and pulleys. One end of the cable attaches to the bottom of the door; the other end of the cable is usually secured to the horizontal track angle with an s-hook. As the door closes, one end of the cable follows the bottom of the door; the remainder of the cable runs over the pulleys above the door, onto the horizontal track angle where it is normally secured with a cable clip and an s-hook. (For demonstration purposes, the spring is extended from the ceiling, but it is normally suspended from the rear track hang.)
Sizing Chart for Extension Springs
Extension springs are usually installed on single-car that garage that most commonly range from eight feet to ten feet wide and seven to eight feet tall. Because of the variation of sizes, quality of steel and varying hardware; every door has its own specific weight and must be calibrated correctly, to ensure proper lift.
For Ex: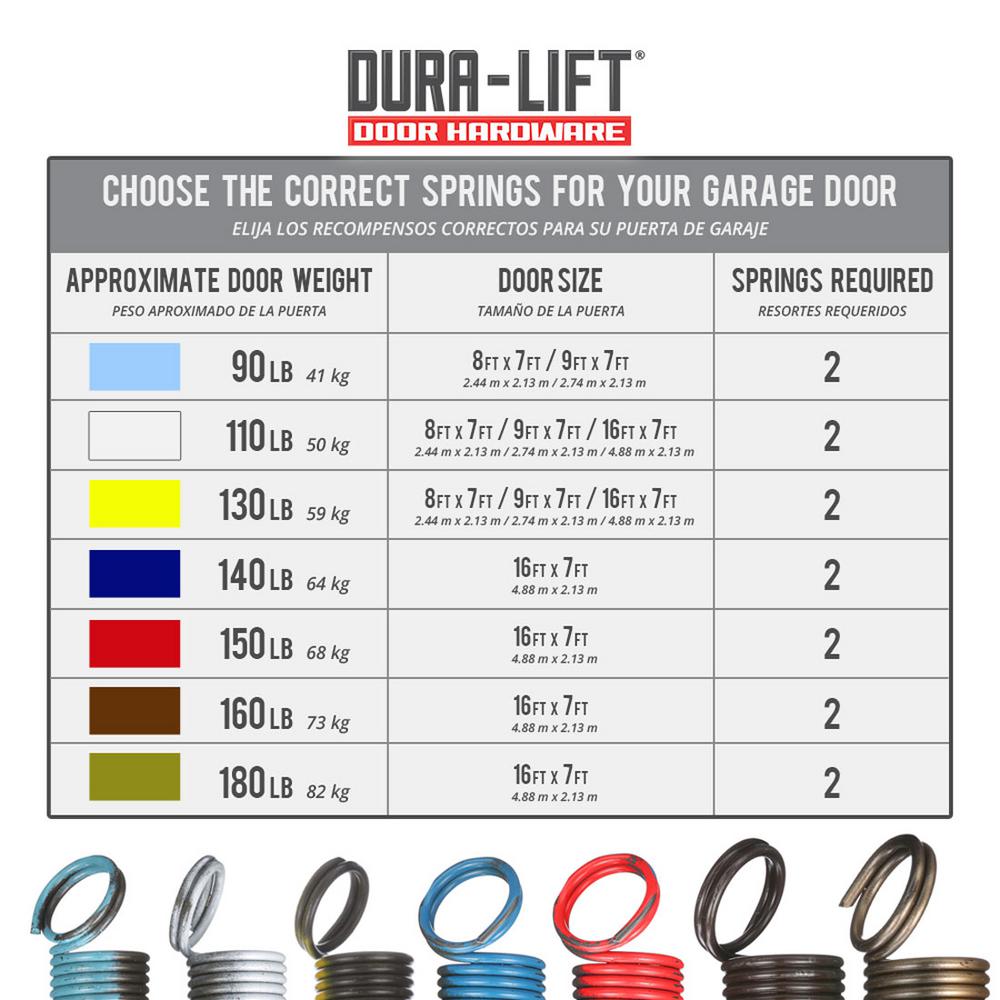 Should I Replace One or Both?
We recommend that you replace all of the extension springs on your door. As the springs fatigue, they loosen and do not provide as much lift as the new spring. If you only replace one of two springs, the door may open unevenly and cause problems such as binding or rollers coming out of the tracks.
Why The Garage Door Guys?
The Garage Door Guys aren't your average door guys. When you go with us we do a thorough inspection of your door, to ensure that our repair is all you need to have a long lasting functioning door. What am I getting at? Our work ethic! There are a lot of companies who structure themselves to "sale whats on the truck first". We simply don't believe in that practice, because we mean it when we say we are the pro's in delivering professional service. We're going to offer you options to fit your budget and maximize your repairs!
Want to rid yourself of the old extension spring system?! No problem!! Extension Springs often cause people problems as one spring tends to wear faster then the other, that's why we also offer what we call "The Torsion Spring Conversion" where we take down the old extension spring system and improve your door with a torsion spring system, lifting your door more evenly and smoothly! We can also upgrade for springs with a longer life-time for a small fee! Contact us now for more info!